Our Offer
Since its creation, Amarante has developed a renowned expertise in the fields of close protection of people and armed escorts. We provide temporary and permanent protection for individuals working with firms and international institutions in hostile environments. Amarante ensures that each of its services is tailored to the specific requirements of the client, and we operate with discretion (« low profile » protection solutions) and respect for the lifestyle and work of the protected persons.
Map of Amarante's locations and places with operational capacities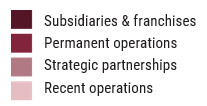 Our Solutions
Amarante International, through its subsidiary Amarante Protection and authorised under the CNAPS number - AUT-075-2120-10-27-20210337133, provides close protection for personnel in France and abroad for international organisations and private companies. Each solution is specifically tailored to the profile of the protected persons, the nature of their work and the local environment.
Amarante provides security solutions for events, such as filtering security, the securisation of the environment of the event in order to prevent an attack, and enhanced security measures.
In order to accompany travellers during their trips in moderate to high threat destinations, Amarante provides secure transportation services.
These services are made to ensure the protection of the travellers during their entire trip. Amarante role is to advise and put in place a comprehensive apparatus according to the travellers' specific needs (Meet&Greet, Fast Track, Vehicle and Security drive, Close Protection Officer "CPO", Escort, Long term protection).
Amarante's +
A subsidiary dedicated to close protection operations
A team of experts and highly qualified consultants in the field
Protection solutions adapted to local legislation, in particular regarding the carrying and use of weapons